Infinite Crisis has shut down.
With its departure, Dawnbase will be going into permanent read-only mode and will remain as both an archive of information about Infinite Crisis, and a reminder of the times we all had with the game.
Hats off to you all. It was a pleasure, ladies and gentlemen.
Sacrilege
@SacrilegeGG



Released March 1st, 2013
2 alternate costumes available
Strong against:

Weak against:

We're looking for a Zatanna guide worthy of being our Editor's Pick.
Want to see your guide here, prominently displayed to every visitor to this page?
Go create a guide and show us what you can do!
The below feature is still being tested. Expect bugs and wacky behavior.
Vote for who Zatanna is strong and weak against. This will be particularly useful once draft/ranked matches are available.


You must be logged in to use this feature.

Zatanna's Psychic Assault
Zatanna's Psychic Assault applies a stronger slow and lasts longer.

Target enemy Champion loses 40% Move Speed for 3 seconds.

Skewer
(Q)
Cooldown: 4.0s
25 Will
Zatanna summons magical swords, and after a short delay they deal 50 Power Damage to enemies in an area.

If Skewer hits a target with Punish or Protect on them, the effect will detonate early.

Dash, Dazzle
(W)
Cooldown: 19.0s
55 Will
Allied Champion: The target gains 30% (+1% per 100 Bonus Will) Move Speed, which diminishes over 3s.

Enemy Champion: The target loses 30% (+1% per 100 Bonus Will) Move Speed, which diminishes over 4s.
Move Speed:
30%
33.33%
36.33%
40%

Protect, Punish
(E)
Cooldown: 10.0s
70 Will
Allied Target: The target gains a Shield that blocks 60 damage. After 2.5s regains 55% of the remaining Shield as Health, and nearby allies regain half that amount. Skewer can trigger Protect's healing early.

Enemy target: Reduces the target's healing by 50%. After 2.5s, the target explodes and deals 35 Power Damage to themselves and nearby enemies. When detonated by Skewer, damage is doubled.
Protect Shield:
60
110
160
210
Punish Damage:
35
70
105
140
+
30% Power Damage
+
3% Bonus Will

Be A Rabbit
(R)
Cooldown: 60.0s
Zatanna transforms an enemy Champion into a rabbit for 2.0s. The target loses 10% Power Armor and 10% Attack Armor (+1% per 100 Bonus Will), and their armor cannot be changed until they transform back. The rabbit cannot attack or use skills.

Stage Presence
(Passive)
Zatanna has an additional 10.0% Will Regen (+1% per 200 Bonus Will), and nearby allies gain 5.0 Power Armor.
Will Regen:
10%
13.3%
16.7%
20%
New 52

650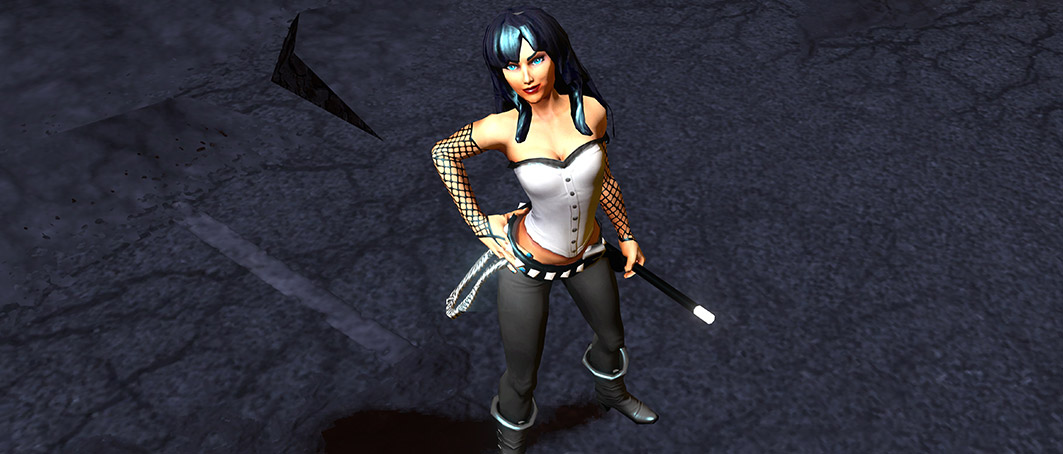 Ame-Comi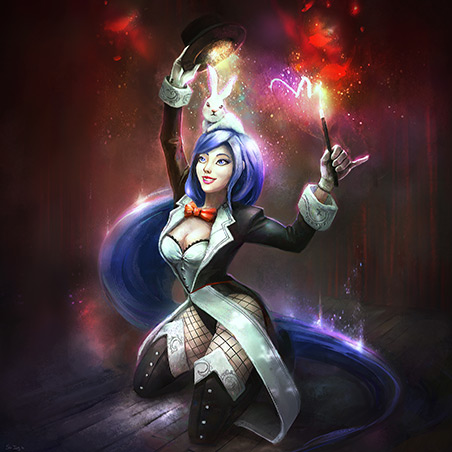 650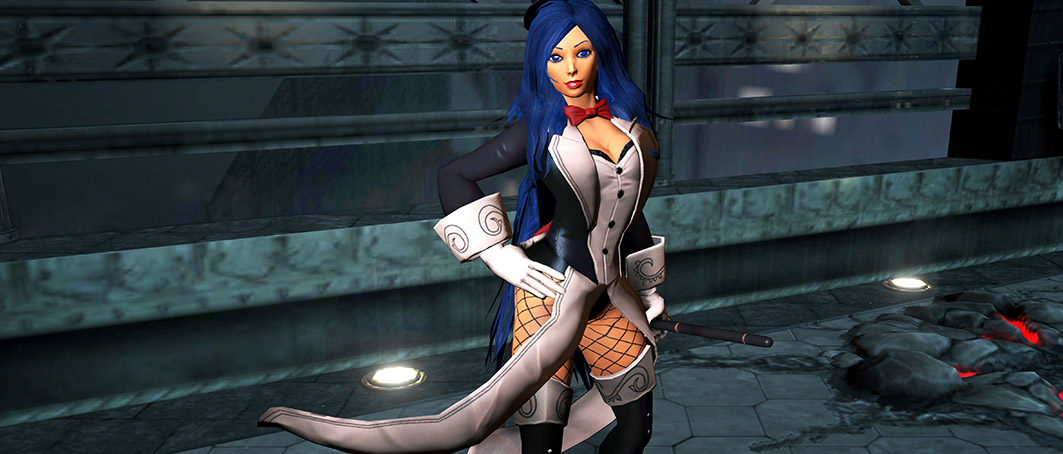 ---
Zatanna Zatara is the daughter of the late Giovanni Zatara, another famous stage magician with the inherited ability to manipulate magic. Zatanna accesses her almost limitless magic by saying what she wants done backwards. If said too vaguely, however, her spells can result in terrible and unforeseen consequences, and so Zatanna is always careful to avoid unleashing evils greater than those she combats.
Basic audio

---

Rejoining the fight (respawn)
---

Victory over another champion
---

---
| Champion | Cash | Points | Role | Universe | Difficulty | Guides |
| --- | --- | --- | --- | --- | --- | --- |
| Aquaman | 650 | 5700 | Bruisers | Prime | 100% | 22 guides available |
| Arcane Green Lantern | 650 | 5700 | Enforcers | Arcane | 70% | 34 guides available |
| Arcane Supergirl | 650 | 5700 | Blasters | Arcane | 50% | 9 guides available |
| Atomic Green Lantern | 575 | 5050 | Enforcers | Atomic | 70% | 21 guides available |
| Atomic Joker | 650 | 5700 | Marksmen | Atomic | 50% | 6 guides available |
| Atomic Poison Ivy | 495 | 4350 | Enforcers | Atomic | 50% | 17 guides available |
| Atomic Wonder Woman | 575 | 5050 | Assassins | Atomic | 40% | 31 guides available |
| Atrocitus | 650 | 5700 | Enforcers | Prime | 70% | 20 guides available |
| Batman | 0 | 0 | Assassins | Prime | 10% | 53 guides available |
| Blue Beetle | 650 | 5700 | Marksmen | Prime | 100% | 24 guides available |
| Catwoman | 650 | 5700 | Blasters | Prime | 70% | 35 guides available |
| Cyborg | 575 | 5050 | Marksmen | Prime | 40% | 26 guides available |
| Doomsday | 0 | 0 | Bruisers | Prime | 10% | 47 guides available |
| Flash | 650 | 5700 | Assassins | Prime | 70% | 57 guides available |
| Gaslight Batman | 0 | 0 | Marksmen | Gaslight | 70% | 43 guides available |
| Gaslight Catwoman | 375 | 2850 | Assassins | Gaslight | 40% | 33 guides available |
| Gaslight Joker | 150 | 400 | Enforcers | Gaslight | 10% | 38 guides available |
| Green Arrow | 650 | 5700 | Marksmen | Prime | 70% | 33 guides available |
| Green Lantern | 0 | 0 | Blasters | Prime | 40% | 35 guides available |
| Harley Quinn | 0 | 0 | Controllers | Prime | 10% | 29 guides available |
| Hawkgirl | 650 | 5700 | Bruisers | Prime | 40% | 7 guides available |
| Joker | 0 | 0 | Blasters | Prime | 70% | 35 guides available |
| Katana | 650 | 5700 | Bruisers | Prime | 100% | 10 guides available |
| Krypto | 650 | 6800 | Controllers | Prime | 80% | 9 guides available |
| Lex Luthor | 650 | 6800 | Blasters | Prime | 80% | 6 guides available |
| Mecha Superman | 575 | 5050 | Enforcers | Mecha | 70% | 16 guides available |
| Mecha Wonder Woman | 375 | 2850 | Marksmen | Mecha | 10% | 21 guides available |
| Nightmare Batman | 495 | 4350 | Bruisers | Nightmare | 40% | 32 guides available |
| Nightmare Robin | 650 | 5700 | Assassins | Nightmare | 70% | 19 guides available |
| Nightmare Superman | 575 | 5050 | Controllers | Nightmare | 70% | 24 guides available |
| Poison Ivy | 150 | 400 | Controllers | Prime | 70% | 39 guides available |
| Robin | 650 | 5700 | Bruisers | Prime | 70% | 15 guides available |
| Shazam | 375 | 2850 | Enforcers | Prime | 70% | 43 guides available |
| Sinestro | 650 | 5700 | Blasters | Prime | 50% | 16 guides available |
| Solomon Grundy | 650 | 6800 | Enforcers | Prime | 30% | 3 guides available |
| Star Sapphire | 495 | 4350 | Blasters | Prime | 90% | 20 guides available |
| Stargirl | 650 | 5700 | Blasters | Prime | 10% | 7 guides available |
| Starro | 650 | 5700 | Controllers | Prime | 70% | 7 guides available |
| Supergirl | 650 | 5700 | Bruisers | Prime | 60% | 11 guides available |
| Superman | 650 | 5700 | Bruisers | Prime | 60% | 33 guides available |
| Swamp Thing | 650 | 5700 | Enforcers | Prime | 70% | 5 guides available |
| Wonder Woman | 0 | 0 | Enforcers | Prime | 40% | 37 guides available |
| Zatanna | 495 | 4350 | Controllers | Prime | 70% | 22 guides available |